Improving the performance and productivity of business and key individuals

After Leadership Training, many realize it is wise to continue with Leadership Coaching. John Franklin Graham shows you the steps to the next level. Incorporating his vast experience developing managers into leaders, he will show you a clear and concise pathway to focus in the direction of your purpose.
Your next level of success is just around the corner –
don't wait, don't expect it to just happen without effort.
Call John Graham @ 713-266-9607
---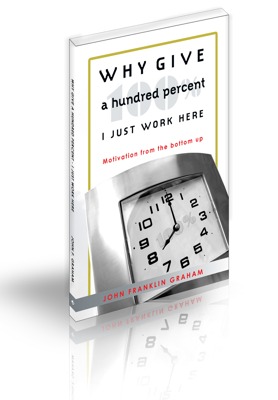 "Why Give 100% – I just work here"
by John F. Graham
click to purchase paper back or Kindle version
Most people would agree: "My attitude would be fine if other people would stop messing it up." There are plenty of events and plenty of people who can potentially drive you to a 'bad attitude.' If you let it, the bad attitude vacuum will suck you in.
"If I only had the perfect job, including no stress, with the perfect co-workers and the perfect boss, excessive pay, plenty of time off, plus a perfect family and I lived in the perfect house with the perfect weather – my attitude would be great." But the truth is, after a few years of all that perfection, you would become bored with it all….
~ John F. Graham, excerpt from the book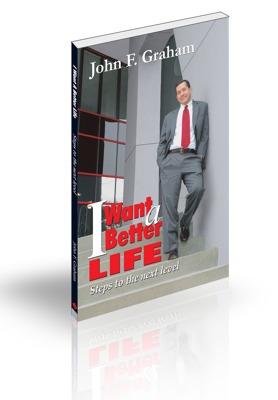 "I Want a Better Life – Steps to the Next Level"
by John F. Graham
"The world needs you to move to the next level in your life, because life does get better when you get better. The beauty of it is, by moving to the next level in life and improving your life, it is next to impossible not to improve the lives of other people. It is a generous gift you share with the world.
Life should be one big set of incremental improvements leading to endless discovery and opportunity."

~John F. Graham, excerpt from the book